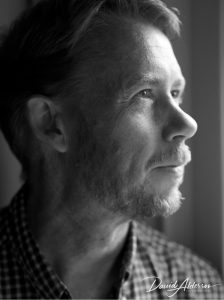 Just think—thirty-five years ago I couldn't even spell otorhinolaryngologist, and now I are one…
In 1984, as a first year medical student, I came across the word Otorhinolaryngologist in a textbook, and my friends and I laughed at such a pompous, obviously made up word, and at our varied attempts to pronounce it. Most of the world knows this role as Ear, Nose and Throat Surgeon—the doctors that used to wear a mirror on their forehead—and now I am one.
Since 2001, I have worked at Torbay Hospital as a Consultant ENT Surgeon; I focus on the fields of hearing and voice, areas of such fundamental importance to us all, as social beings.
Over the years I have become inspired by the ways that the arts and humanities can transform our perspectives on the world in general, and the world of healthcare in particular. I am the clinical lead at Torbay for the HeArTs Collaborative —which aims to weave the arts, humanities and nature into the fabric of health and care across Torbay and South Devon —and also clinical lead for Schwartz Rounds.
All of the opinions in these posts are my own, and do not represent the views of any organisation with which I am associated.

David Alderson
I currently teach Professionalism at the University of Exeter Medical School and Medical Humanities at Plymouth University Peninsula School of Medicine and Dentistry. Previously I led the development of Clinical Skills, Simulation and Human Factors across all clinical professions at Torbay, and was awarded Fellowship of the Academy of Medical Educators in recognition of the work that flowed out of this role.
I live in a small village in Devon with my wife, who keeps me going, two teenage boys who keep me grounded and a lively golden retriever who keeps me sane. I enjoy swimming, cycling and running; and by virtue of the fact that I have completed one triathlon, I am a triathlete.
May every dent I make in the world be an indent of his love

Gerard Kelly
I love playing the fiddle, guitar and occasionally mandolin, and regularly join the worship group in my church. In many of these posts I haven't touched directly on religious themes but for me, my Christian faith remains pivotal: 'at the still point of the turning world.'